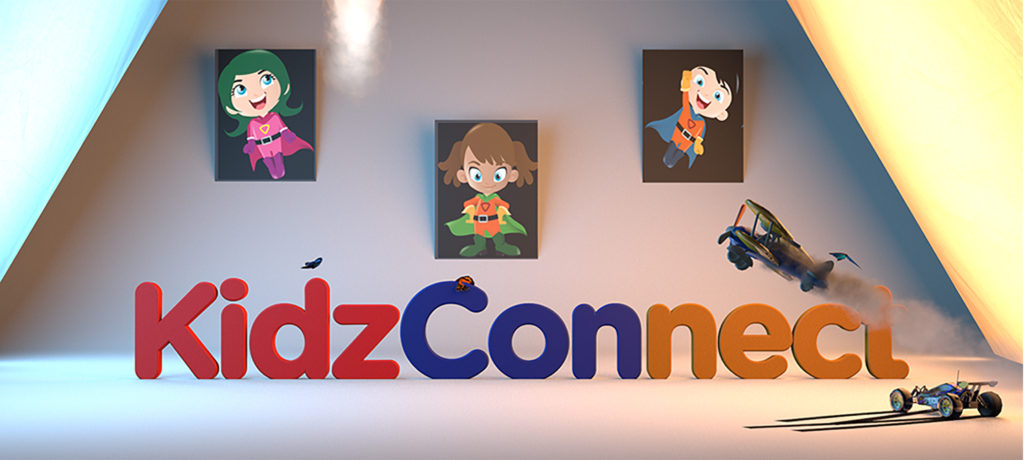 Sundays at 10:30 a.m.
Better than video games. Cooler than a cucumber.
Power up your kid's character. All for free.

Kids love KidzConnect.
It's a fact. Kids

KidzConnect. And what's not to love?
Engaging and fun lessons on Sundays combined with a cool crew of skilled and loving teachers = a recipe for awesomeness. Bring your kids this Sunday and watch them grow spiritually. They might even clean their rooms after. Might.
Can we get a little fun please?
Kids love to have fun — hey, who doesn't!?! Just as we
want the adult services to be fantastic and fun, we want our kids to have the time of their lives at KidzConnect and beg you to bring them back.
It's all about engagement.
We really believe that learning starts with being engaged
and not bored, so we get every child actively involved in the
learning process. They get to sing, dance, act, and draw their way to spiritual greatness. It's like learning without the learning!
---

Instant spiritual superheroes.
Just like adults need a vision for greatness, we believe that our children get inspired by the superheroes of the Bible who have made the tough decisions to do what is right. KidzConnect helps kids to take what they learn on Sundays and put it into practice on Mondays.
Decisions, Decisions.
Everybody faces choices to do right and wrong each day, including our children. Even the pre-schoolers. It may not seem like a big deal to us, but it's a big deal to them! And then, these seemingly little choices add up big time to become the character which guides their life! That's why at KidzConnect we give them an awesome biblical framework for navigating sticky situations. That way, when the stakes are higher, they'll put on their capes and come out shining.

The right tools for the job.
We use age-appropriate curriculum that considers varying learning styles with the storytelling that makes the bible come to life for them. Biblically accurate and very practical, we also regularly connect fun ways for parents to continue
building up areas of their child's character at home.
Secure like Fort Knox. But better.
Rest assured that your child is safe and secure in our classes, which of course helps you to relax and focus on getting your needs met. The person who checks your child in is the ONLY ONE who can check your child out. We think that is better than gold.

Want to know more? Ask away!
Please email our KidzConnect directors at kidzconnect@bridgechurchbr.com.