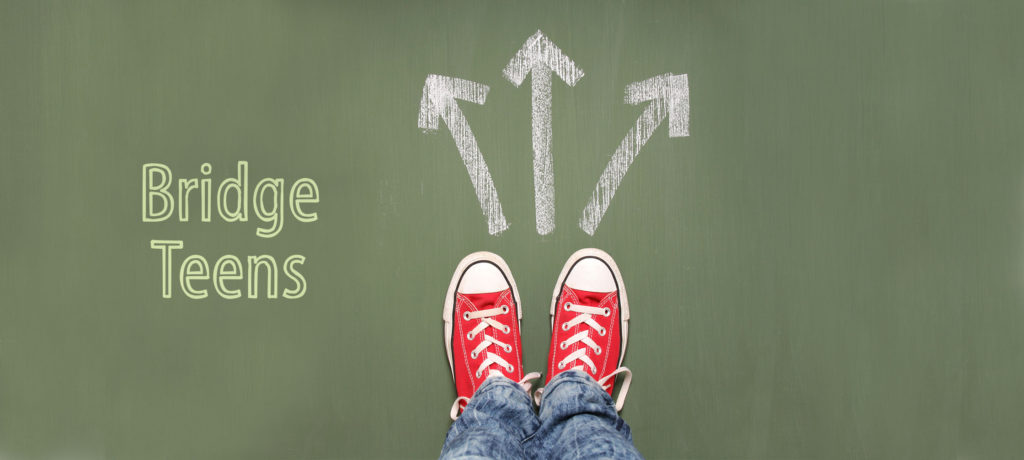 As you navigate teen life,
it helps to have a little direction.
The Bridge Teen Ministry is all about having
fun and finding your north star.

We know you're smart.
The Chesire Cat in Alice in Wonderland said, "You just go where your high-top sneakers sneak, and don't forget to use your head."
While you're having fun in life, it's important to have the right friends along the way. It can be really hard to find a place where you don't have to pretend you're somebody you're not. The Bridge teen ministry is a spot where teens can chill, be themselves, and have great times with great friends.
It's the things they don't teach you.
Hitting the books is great, but there's a lot more to learn in life besides academics. In fact, many really smart people failed in some of the most important areas of their lives. You don't want to be that guy (or girl). The Bridge Teen Ministry is all about you succeeding in EVERY area of your life — including academics.
Stuck at sea?
If you ever find yourself stuck at sea or lost in the dark, Bruno Mars said he'll be there for you. It's a great song, but we suggest that you don't wait around for Bruno. Instead, coming to the Bridge can help you build a strong relationship with God, and He's proven over and over again that he is the one we can count on — like 1, 2, 3. Don't take it personal, Bruno.

Making families stronger.
The Bridge teen ministry makes families stronger. It's not always easy for teens and parents to have good lines of communication, especially when there are lots of emotions happening. Sometimes families can get stuck, but Bridge teen ministry leaders are great at connecting the dots and connecting families together.
Every family has its super strength. Every family has its kryptonite.
Just when you think you've got it all figured out, change happens. Creating a spiritual family household, especially during the junior high and high school years, is not always easy. When the going gets tough, and spiritual super villains are prowling around, the Bridge Teen Ministry is a safe place to turn. Join us for our next camp out, sleepover, laser tag battle, scavenger hunt, and more. Think of it like the Justice League, but better. We actually exist.
Want to know more? Ask away!
Please email connect@bridgechurchBR.com
(Whether teen or parent, don't hesitate to contact us!)